We specialize in the installation of marine certified equipment and installation practices
Installs are designed with marine circuit breakers – not cheap fuse holders prone to corrosion.

Each install is designed custom to each boat and customer request – not all boats are the same so each customer receives a custom consulting service to discuss many options and importance of a quality marine installation designed for all day playing on the water.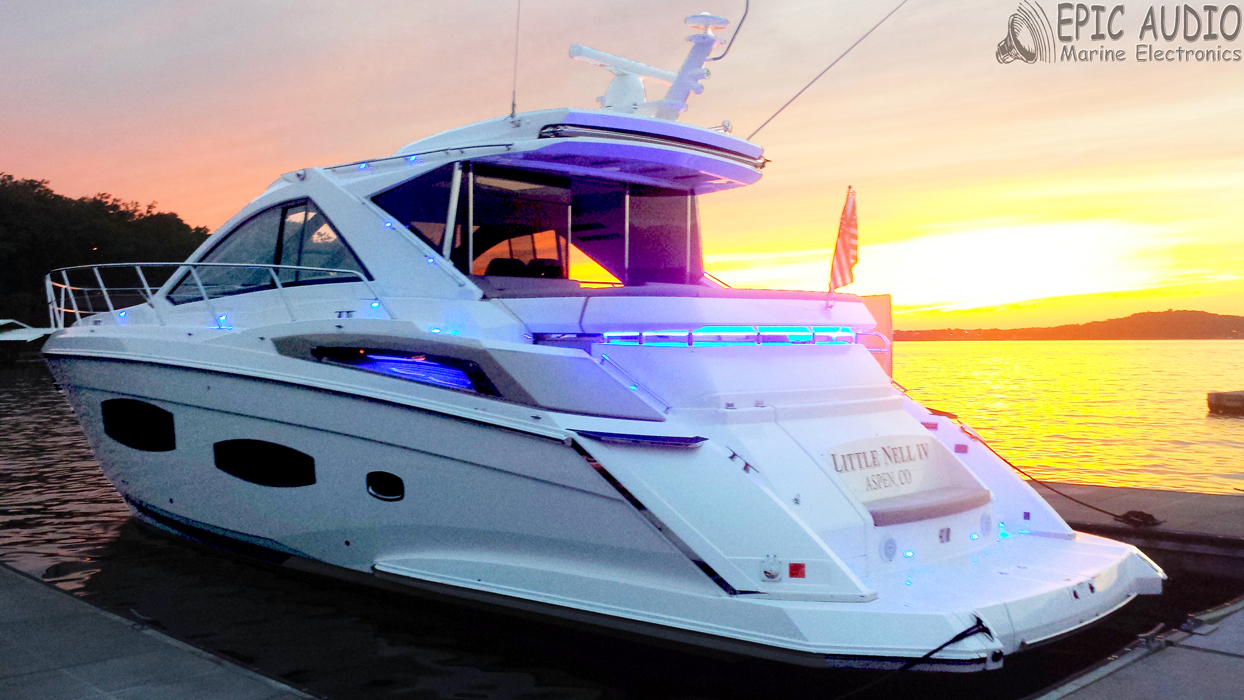 "Marine environment speakers are designed to play in an outside open area with frequencies to match outdoor water noise not car speakers made for road noise inside."

-Jason, Owner
---
Brands of Marine Audio We Carry
  Fusion Marine Entertainment
FUSION Entertainment is world-renowned for engineering innovative audio solutions that are enjoyed around the globe by the most prestigious boat designers and manufacturers. A FUSION entertainment system has become the measure of quality; chosen by those who appreciate acoustic excellence and demand superior environmental protection.
  JL Audio
At JL Audio, subwoofers are serious business and an essential part of our formula for great marine audio. A running powerboat produces a huge amount of low frequency noise, which is impossible for small full-range speakers to overcome. Adding a subwoofer not only gives you vastly better low-frequency output—it will help your whole system sound cleaner and louder, too.
Rockford Fosgate® is built for the future. We implement the most state-of-the-art technology in the audio world. Best of all, our entire line of products…amps, subwoofers, speakers, processors, and source units are designed and engineered in Tempe, AZ, USA!
Bringing a level of performance, style, and durability unparalleled in the audio industry, Wet Sounds' marine stereo systems and equipment provide crisp, high-quality audio that's loud enough to be heard whether you're fishing a local pond, water skiing on a lake, or tubing on the ocean. Enjoy unparalleled protection from water damage with Wet Sounds' state-of-the-art equipment.
Epic Audio uses marine rated equipment to stand the test of harsh sun, heat, party, and all day ability to play at 100% for the most enjoyable boating experiences imaginable. The products and tools used are of the highest quality including stainless steel, marine UV plastics, and marine rated wire.
Our goal towards our clients is to offer the best in quality sound with a clean and professional installation. For our employees, we strive to provide the best conditions and equipment to create extremely satisfied and loyal repeat customers. We do work remotely on your boat dockside during the week to have down by weekend without worries.
Every install comes with status updates by txt and/or email so the customer knows their boat is safe and ready. Complete installation of marine stereo speakers, LED Lighting, GPS Navigation, and Marina Boat Manufacturing consulting services on electronic installation and troubleshooting.
Gallery-